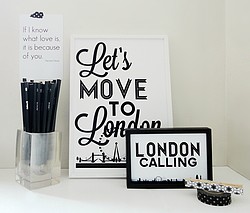 Promoted by MTV Buzzworthy, and praised by Real Simple for its "clean, mimimalist modern sensibility", Sacred & Profane Designs has won a loyal following with its line of typographic prints and posters and retro pillow covers.
Sacred and Profane was started by Sissy in 2010. Like many freelance designers, Sissy started Sacred & Profane as a creative outlet from her daily routine, which included a fulltime job and starting a PhD. Sacred and Profane's name comes from the title of an essay Sissy ran across in her studies, and embodies what she considers her art to represent – the possibility of being one thing and its opposite in the same moment.
Sissy draws from influences all around her in her work, whether it be the music that she listens to day in and day out, magazines of all persuasions, or her previous studies in communication design. These influences inform her fresh, contemporary style, revealing themselves in a quiet salute to pop art, or a faint retro lean. Her most popular pieces display her love of typography and modern aesthetics, showcasing strong typefaces and judicious amounts of white space to give her chosen words their heartfelt due.