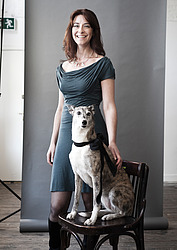 I'm a jewellery designer who used to be an animator, so I like to bring the impression of movement into my designs.
I believe that jewellery should be uplifting, tell a story, and make the wearer smile. A sense of fun and quirkiness is really important to my designs, and I love and am inspired by animals, trying to capture the essence of who they are and what they do.
My studio is a tricky place to work. I have to step over two slumbering lurchers who come into work everyday with me!
Everything is made by hand. I use silver, gold, copper and enamel, which is basically glass fused to metal under heat. On the one hand enamel is very tough (think of the London Undgerground signs), and on the other hand, quite delicate.
Each enamelled piece is unique, they are all made by hand, so even though I repeat my designs, each one will look ever so slightly different from the next because of the enamelling process. Their uniqueness is one of their selling points.
Everything is gift-packaged, and there are plenty of designs to choose from if you want an eye-catching piece that is a conversation starter!