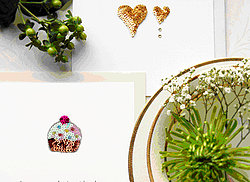 Welcome to Sabah Designs where I lovingly create along with my dedicated team beautiful personalised embroidered greeting cards. With a background in fashion and textiles, I launched the company in 2004. My designs reflect my passion for colour, textures and incorporate aspects of my personality and changing moods.
My signature style of embroidery is an ensemble of delicate organza's, silk threads, sparkling sequins and glistening beads, all applied with love, passion and dexterity. I have had the opportunity to design embroidered pieces for a department store in Tokyo, worked with private clients in Dubai and produced an exclusive range of greeting cards for stationers in America. The majority or my products can be personalised to create a truly unique gift for your special occasion.
All our greeting cards are handmade and printed in the UK using premium quality boards. I pride myself in sourcing the finest silk threads, crystals and fabrics for all our products and hope you enjoy receiving them as much as we've enjoyed creating them.