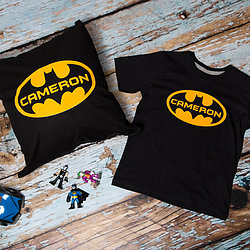 Rusks & Rebels began with the simple idea of creating cool and funky t-shirts inspired by current trends and culture, for our two rebels Dylan and Cameron. After months of sketching out ideas, we realised we needed to take the plunge and start the dream of having our own business. We had the potential to create fab kids and baby clothing including a really fun personalised range, so we went for it!
When Rusks & Rebels was born in 2011 we were motivated by the possibility of it leading to future employment for our 14 year old son Dylan, who has Williams Syndrome. The Syndrome effects all areas of Dylan's development. His future health looks very positive, however his lack of development promises for an uncertain future in terms of employment. As Rusks&Rebels has developed from an idea into reality, our motivation to provide future security and paid employment for Dylan has evolved into a dream to one day be able to offer paid employment opportunities for not just Dylan but for many adults that are living with learning and developmental difficulties.
We provide Ethical Baby & Kids Fashion for your trendy tots and cool kids. Current fashion trendys and popular culture help to mould and create our own look in the fashion world! Be part of the Rusks & Rebels family and help us realise our BIG dream :)
So, congratulations on finding the web's newest, funky kids clothing company, now dive inside to make your kids stand out from the crowd today!
Don't forget if you can't see exactly what you want, just get in touch!