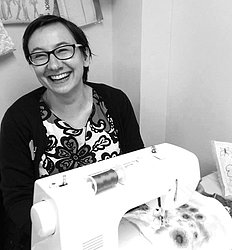 Rudi & Co. ( formally Angelcake Designs ) is a small design company based in the Scottish Borders, just south of Edinburgh and is run by me - Jules Hanlon Cole - with a little help and a lot of patience from my family!
I've always been just a little bit obsessed with fabric, colours and patterns - collecting odds and ends from a very young age and never really knowing why. I would keep hold of old clothes just because I loved the texture of the fabric and the colours. When it came to choosing a degree I was lucky enough to stumble upon a BA Hons Creative Arts degree course which allowed me to specialise in creative textile design whilst also studying Creative Writing, Photography, Art and Design.
After graduating, I went on to work in buying for a British high street retail chain where I learnt all about fabrics, construction and sourcing. It wasn't until I took a career break to have my 3 children that I was able to start making and experimenting again. I began by making personalised cards for my friends and family at night from the kitchen table when the children had gone to bed and this slowly blossomed into Rudi & Co., which sells an eclectic range of personalised cushions, cards, aprons, pictures and bags.
Living and working in the Tweed Valley - which has the most amazing mountain bike trails and miles of empty roads - has inspired my biking range. It's been fantastic to be able to combine my passion for graphics and design with my love of working with textiles.
I now work from a lovely bright studio workshop which is within walking distance from my home in the Scottish Borders. I love what I do and I love knowing that each personalised item that I make will help to celebrate a very special occasion. Each piece truly is designed & handmade with love.