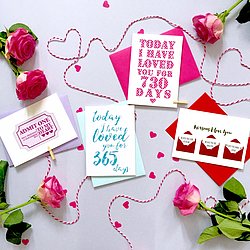 Ruby Wren Designs is a small business striving to amaze and move recipients of our striking greeting cards. We make beautiful keepsake cards, designed to be more than just a greeting card but to be treasured for years! Our cards are often framed and given pride of place on the walls of homes around the world.
We believe that greeting cards should be treasured as mementos of celebrations and occasions! We're often hearing from people who've been given a Ruby Wren card and come back to buy more for their friends!
Ruby Wren Designs began life in 2009, after artist Hayley Mitchell started selling handcut cards and took part in the Prince's Trust Business Programme. From there, we joined notonthehighstreet.com, taking part in their gift catalogues and began printing our famous 'Days' cards shortly afterwards. It's been an amazing adventure since then!
At a young age, Hayley set up a website which reported on the gift industry and trade fairs which ran for many years and allowed her to visit the headquarters of some of the best gift and greetings companies in the world, product launches and events. Her enthusiasm for these leading companies launched an interest in beautiful, design-led products and have fueled a passion for greetings cards and gifts which is undoubtably the reason for Hayley starting Ruby Wren Designs and creating her beautiful handmade cards.
Our mission is to create beautiful designer products that mean more than just a greeting card. We believe in counting each and every day - afterall, every day matters!