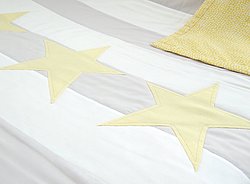 Brown Betty Blue is a homegrown company specialising in handsewn and hamdmade childrens items.
My mother and her twin sister have been avid sewers - my mum making curtains and blinds and my auntie who made our quilted dungarees as children!
When I had my first child I began sewing solely for her turning her lovely little socks in to puppets. But gradually as she grew I became more and more addicted about making her room individual and unique.
Now my small sock puppets for my baby have become quilts, bunnies, mobiles, bunting and much more for lots of other babies!