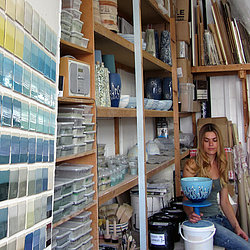 Graduating with a BA (Hons) Three Dimensional Crafts (specialising in Ceramics), Rowena went on to win 'The Best Up and Coming Local Artist Award, Brighton and Hove 2002' and set up in a ceramic art studio as a full time artist and maker. Here in her Brighton studio, she has continued to develop and produce striking contemporary ceramics for numerous galleries, exhibitions and collections nationally and internationally.
Rowena won the title "Craft & Design Selected Award 2013 Finalist - Ceramics" for her outstanding ceramic designs, also winning the same title in 2011.
In January 2016 Rowena was selected to become a member of The Sussex Guild of Professional Designer Makers.
Her work has a distinctive and wholly original contemporary style. Using additions of metal oxides and stains, the coloured clay layers are brushed on or inlaid in incised lines and marks on the slip cast or coiled form. The surface marks are created using various sgraffito tools when the clay vessel is in a leather-hard state.
She bisque fires, then masks areas on the outside of the form using wax resist, glazing the inside and the unmasked areas with a matt or transparent gloss with the final firing at 1160°C. All pieces are high-fired and functional.
All pieces are individually hand made by Rowena in her Brighton studio and have her signature mark on the base.