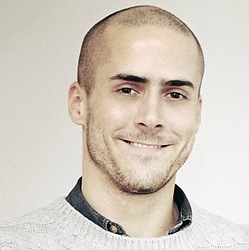 I have been creatively minded for as long as I can remember. Throughout my school career, art and design were the subjects I was most fond of, and I went on to complete a degree in Graphic Design at the University of Leeds, before working at a small design studio in Leeds.
One day I decided to produce a series of alternative posters for Disney films to pass some time. I'm a child at heart, and have a great affection for Disney films, so it was a natural choice of subject matter. I showed the designs to friends, and one liked them enough to feature them on his blog. From then the designs went viral, featuring on other blogs and sites, in The Observer, Elle magazine, Marie Claire, The Huffington Post, and even garnering a tweet from the Oscar Academy! I began receiving requests for prints of the designs and before I knew it I had set up my own business.
The continued success of these designs has presented me with a platform to promote my work, and has led to more work opportunities including work for theatres, book illustration and even for the Walt Disney Company itself!