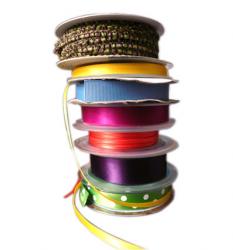 With drawers full to bursting of photos, sunny and not so sunny holiday shots, grinning friends and family, these were precious memories that I wanted to sort out and display in beautiful albums that would look lovely on the bookshelf or tabletop. So, I set about scouring the shops, but to no avail, so decided that I'd just have to make my own.
As a result, I began to get a steady flow of orders from friends and family. I love textiles and playing around with colour and have been collecting fabric, buttons and various ribbons for years, so decided to combine my passion with necessity…et voila…Rose Bonbon was born!
I have supplied to small shops in Sussex and a luxury, West End store in London. I also supply a number of professional wedding photographers.
The album pages are made from high quality acid free card with tissue overlays and require photo corners or spray adhesive to mount your pictures.
Rose Bonbon photo albums are handmade with care and attention to detail and you can be sure the product you receive will be unique to you, a refreshing change from the mass produced market.