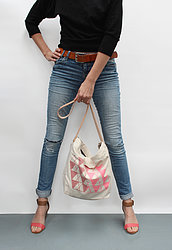 Rolfe&Wills is a Bristol based surface design and screen printing company. Alice Rolfe spent 10 years studying Fine Art, Sculpture and Print in London, teaching and exhibiting in and around London and Europe. Making is Alice's pure love, so leaving the conceptual world behind her; she came back home to Bristol and started her own design company.
Specialising in homewares and accessories Rolfe&Wills is known for their focus on interesting colour combinations, unique contemporary designs keeping it vibrant, modern and fresh. They enjoy using uncommon printing techniques such as blending to create their signature style. Alice is influenced by the simplicity of scandinavian design, keeping her designs minimal and fresh. Rolfe&Wills is an ethical company, all items are hand screen printed by Alice in her bristol studio. All items are organic, and printed with non-toxic organic ink.
The range includes bags, cushions, laptop cases, tea towels, mugs, coasters, placemats, cards and art prints – so there is something for everyone!
Based in Bristol Alice is also known locally for her Britol Views illustration collection - she likes to stretch her drawing skills as well as design. The range includes her drawings on mugs, and art prints.