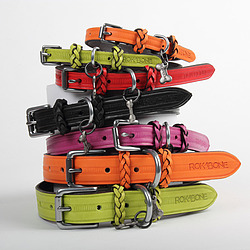 Rokabone - Collarsmith for Deserving Dogs.
Whether your dog leads you 'around town' or 'up-country,' you'll be sure to find the perfect collar and lead set at Rokabone – British Collarsmith for Deserving Dogs.
We are a luxury dog fashion brand and merchant of a unique collection of stylish, yet wearable leather dog accessories designed from our small studio in London.
Rokabone specialises in original leather braiding in vibrant full grain Italian leathers, which make wonderful gifts for dogs.
Handcrafted using only the finest materials in our little factory in the heart of the English countryside, our designer dog collars are suitable for all cool dogs big and small and for discerning dog-owners who are looking for something a bit out of the ordinary.