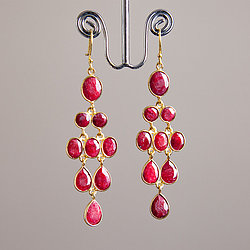 Rochelle believes in the power of beautifully crafted jewellery to lift your spirits, transform your mood and express your individuality. Her designs reflect a diverse range of influences garnered from years trading antique bijoux in Camden Town and Portobello Road's bustling street markets, as well as her adventures in the vibrant bazaars of the Far East.
A free spirit in every sense, Rochelle's curiosity and fascination for the unknown has taken her far and wide in pursuit of new experiences and discoveries, which lend her work its characteristic dynamism and freshness. She combines elements of vintage elegance with hand-made, artisan techniques, honed over hundreds of years in ancient, family-run workshops, which she visits regularly for creative inspiration and imaginative ideas.
Rochelle's inimitable style blends traditional materials like 18 carat gold vermeil, silver and individually sourced gem stones, in innovative and exciting ways. The result is a myriad of colourful, unique and captivating pieces, which are both contemporary and timeless in their appeal.
Stunning and exquisitely tailor-made jewellery has the potential to enhance your life, both emotionally and aesthetically, and Rochelle Shepherd Jewels have an indefinable ability to do just that.
Rochelle Shepherd Jewels: Order something beautiful today.