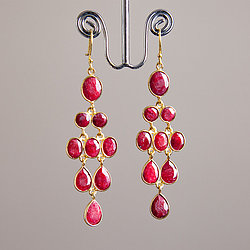 I have had a passion for jewellery spanning many years when I started my career as an Antique Jewellery Dealer in London's famous Portobello Road Market.
As I love colour and great materials it was natural for me to begin designing and creating collections that would outlive any fashion trend or phase.
I travel the world looking for beautiful cut Gemstones with an emphasis on Fairtrade, and quality.
I always use 18 carat Gold and Sterling Silver as I want my designs to be worn for generations
All items are handmade, designed and assembled in the UK.
I have a collection that has a distinct Antique flavour, but also a very contemporary feel.
With a great eye for colour combination I work instinctively to create pieces that people love to wear.
Each item is Handcrafted with 18carat Gold Vermeil, Real Gemstones and Sterling Silver.
I do not use Brass, nickel or any other inferior metal in the making of my products.
Everything on my site is Handmade with a real Passion for the stones and materials I work with.
Every item comes gift wrapped with a Satin Teal Blue pouch with satin lining and Gold Ribbon.
My Present and Timeless Style will offer you Jewellery you can treasure infinitely.
Order Something Beautiful Today.