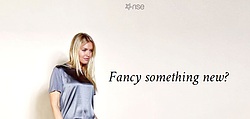 Spring Summer 2015 at RISE
Meet the holiday mood head on this year with the clothes you want now. Be seen in sleek nautical stripes , cool floaty maxis and trade mark RISE embellished dresses. Be sure to travel between exotic destinations in one of this seasons finest summer RISE numbers.
Our trademark embellished dresses and subtle but powerful prints can cause a stir by the bar, and denim shorts with a RISE embroidered top is a look made to walk out out by the pool in. Seal your jetsetter mood with beaded shifts and jersey maxi's.
Sipping your favorite beach-inspired beverage, you love how your RISE embellished dress sets you apart from the rest of the girls at the beachside cabana bar. Fashioned from a cool design studio in Berkhamsted this seasons range captures a holiday vibe with its cool embellished shifts and maxis and a cornucopia of beaded tops to wear with denims or shorts.