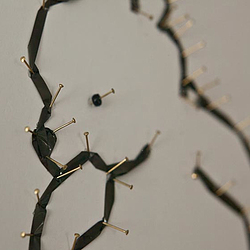 Have you got a favourite tape that you never play, but just can't bear to throw away? Or a tape that holds special memories? We create artwork from cassettes by pulling out the tape and pinning it into pictures or lyrics that relate to the songs or stories from a time before CDs and mp3s.
Each picture is individually assembled and no two will ever be exactly the same. It is also possible to personalise the pictures by adding dates or words with a specific meaning to the individual; birthdays, anniversaries, and favourite lyrics. Or we can even start from scratch, producing a picture from an idea you have, the simpler ones seem to work best.
Each tape picture will come or be returned in a square off-white mount and in a box frame.
Why not dig out a cassette and get in contact? Getting in touch with us is easy, just click the 'ask the seller a question button' on the product page, we can then discuss any commission before purchasing.