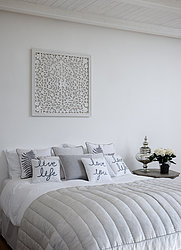 Gifts from the heart, made with love.
A family business based in the heart of Buckinghamshire countryside, Retreat Home offers a range of beautiful, unique gifts and home accessories.
The company was founded by MD Sam Green in 2006, following the birth of her son Louis. As a mum, Sam found that the daily commute and extensive travel she was used to as a buyer for big high street stores was incompatible with being the kind of mum she wanted to be, and she seized the opportunity to set up her own business, designing her own range of home accessories and gifts. 'I started with a budget of £2000 and an armful of designs,' she remembers.
From there, the company has gone from strength to strength, driven by Sam's passion for great design and excellent quality. New collections each season keep things beautifully fresh and make sure there is always something new on offer. Sam still designs the majority of products, which ensures Retreat Home's range stays unique and individual.
In addition to beautiful products, Retreat is very proud of their first class customer service. You, the customer, are at the very heart of everything Retreat does, from inspiring gifts, to fabulous home accessories, and superb customer care – gifts from the heart, made with love.