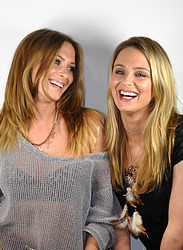 Twin sisters Louisa and Rebecca Warwick launched Regalrose in 2009. Having both graduated with a degree in graphic design and having gained experience within design, marketing and retail they decided it was time to come together to launch their own brand..RegalRose.
Launching two collections a year, Regalrose ensure they are ahead of the trends with their consistent creative designs. Their jewellery and accessories are both designed and created in their studio based in Hertfordshire.
Today, the brand has a large worldwide following including celebrity fans such as Rita Ora & Ellie Goulding.
Their unique style has gained regular features in magazines such as Instyle, Grazia, LOOK and Cosmopolitan magazine and pieces have even been spotted on the X-factor!