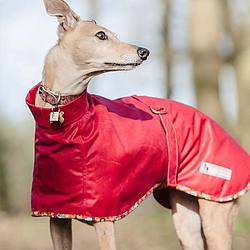 Based in an Old Barn on the Weald of Kent, Redhound for Dogs is now in it's fifth year, and in that time they have collected a lot of valuable information about dogs, little and large through attending many retail shows such as Burghley and Badminton Horse Trials and Country Living Christmas. This knowledge has enabled a range of breed specific sized dog coats and jumpers to be designed, mainly whippets and dachshunds, but not forgetting all those in between!
Having been designing and making high quality bridal and evening wear for two and a half decades Debbie Humphreys decided it was time for a change. A move to Devon and the opening of a gift and homewares shop was quite a change, but didn't provide quite the job satisfaction that she had hoped for! Having had many years of not being able to find a good quality jumper for Bruno, her whippet, she decided to pick up the knitting needles again and knit him one. Soon dog jumpers were selling in the shop, along side dog beds, wax coats, dog collars and leads. The shop was sold and Redhound for Dogs was launched!
So if you love the country look, quality and style you will love our products. Whether you live in the city or the country we make products for all your dogs clothing needs, from jumpers to coats and we can pretty much tackle any shape of dog, so please do contact us if you have any questions before you go ahead and place your order. We are always happy to help!
New for 2015 we have broadened our range to include not just Dog Jumper Knitting Kits for dog loving knitters, but Dog Coat Patterns for dog loving sewers! So, if craft and dogs are your passion, you can now knit your dog a jumper and sew him a coat!