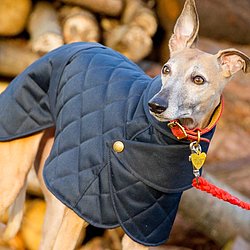 After many years making wedding dresses and special occasion wear I decided that it was time for a change, and with my shivering whippet Bruno by my side I started making dog coats and knitted jumpers. It wasn't long before other whippet owners wanted my products and in 2010 I took my new business to the Country Living Christmas Fair where we met many enthusiastic customers and won Editors Choice!
Now based in an Old Barn on the Weald of Kent, Redhound for Dogs is in it's 7th year, and in that time we have collected a lot of valuable information about dogs, little and large through attending many retail shows such as Burghley and Badminton Horse Trials. With this knowledge and my background I have developed a range of breed specific sized dog coats and jumpers, mainly whippets and dachshunds, but not forgetting all those in between!
The range has expanded to include fleece jumpers and snoods, collars and waterproof bags for walking the dog. We now have successful range of Dog Jumper Knitting Kits for dog loving knitters to knit their own and 2015 saw the release of my book Dogs in Jumpers, which is now available in the USA, Italy, France and Canada.
If you are sevant to a shivering hound we will have the product for you! Nothing leaves our Barn without having been checked by me so that our quality and service remain second to none. For town and country hound you can step out in style with Redhound for Dogs!
Debbie x