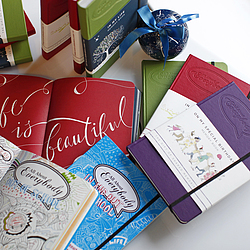 Shortlisted for the Gift of the Year 2013
All About Everybody Memory Gift Books; for everybody in your life to complete, for you to treaure and keep. Introducing our Ultimate Wedding Memory Guest Book
These special gift books offer a new and unique way of creating a lifelong legacy by preserving the personalities, wisdom and memories of the important people in your life for the future. Each book has been beautifully illustrated with space for you to add photographs, keepsakes, drawings, or whatever you would like to make the book your own personal 'treasure trove'.
It started when a small brown book was discovered which had belonged to our Aunty Ruby. From the 1930s to 1974, Ruby had used the book to ask her friends and family to complete a short set of questions about themselves, their lives and their hopes for the future. The book was full of hand written answers, mostly in pencil, which revealed the special qualities and personality of everybody who had completed it. Relatives who we thought of as very mature and forbidding were transformed in our minds when we saw the humour, thoughts and dreams that were evident in what they had written as young people.
Red Cherry Publishing is a small family business based in Leicestershire. Ruby's book of memories inspired us to design, create and publish a brand new set of memory books.