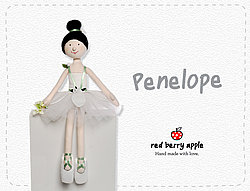 Hello and welcome to our store. We are Joyce and Nicola, a mother and daughter team with a love of that something different.
We hope you enjoy having a look around our store where you'll find our range of handmade gifts as well as a selection of items that we love and think you will too. We enjoy making things from scratch or modifying pieces to make them unique. Our personalised ragdoll is a firm favourite with girls of all ages, we think she's just adorable.
The idea for red berry apple started in 2006 when Nicola was getting married and wanted to give her flower girls a gift that they could treasure. She settled on a rag doll but just couldn't find what she was looking for, so decided to make her own. She had so many fond memories of the ragdoll that her Gran had made for her when she was a little girl and she wanted to give her flowergirls that same precious gift. Many years later that special doll still evokes such wonderful memories of her childhood.
Just like photographs, lovingly chosen handmade presents will always hold a special place in your heart. A personalised gift bought today forms memories that will last a lifetime.