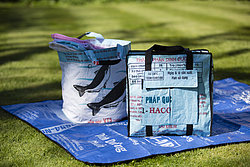 We started our business from our kitchen with a laptop and pad of paper, ordering from abroad, finding things we love that are made ethically and then testing our products on friends and family. That was over 7 years ago and we're still going strong and loving selling fun and Fairtrade products that work brilliantly for you, your home and your garden.
From picnic rugs and pots to beach bags and purses, all our products are made from recycled material. They are produced in Cambodia in a Fairtrade project that has been fully certified by the AAC. Their aim is to give people a better quality of life - meeting their needs on a physical, social, emotional and spiritual level. Using our designs and their expertise, great quality gifts are being produced and the money is going directly to the workers. EVERY TIME ONE OF PRODUCTS IF BOUGHT, THE PEOPLE IN OUR PROJECT BENEFIT DIRECTLY.
The used sacks and bags would normally be dumped in a landfill site but with increasing popularity, they are being recycled into these fabulous products that everyone can use.
What's more, our products are practical for everyday use - strong, durable, water-resistant and cheerful!