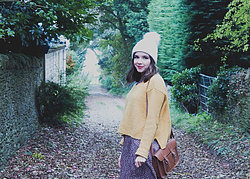 Wildflower Illustration Co. is a stationery brand specialising in greetings cards, wedding illustrations and wall art. We are a small, family-run business consisting of illustrator Rebecca McMillan and her finacé Karl Maguire
{a short history}
Rebecca began painting and illustrating back in 2010, starting by designing cards and stationery for friends and family from her watercolour and ink illustrations.
Since then, Rebecca has gone on to create bespoke artwork, house portraits, marketing material, wedding stationery and greetings cards. She was picked up by Not On The High Street as a seller in 2013, and her products appeared in a Vogue wedding feature in 2014.
Drawing inspiration from nature and travel, Rebecca paints to capture the beauty of the world around her, and her designs are inspired by a love for all things wild and free. For 2016, the business name has been changed from Rebecca McMillan Illustration to "Wildflower Illustration Co." - to reflect the change and growth into a blossoming family enterprise.
Karl - designer and operations manager officially joined the team in 2015, but has supported and guided Rebecca right from her business' humble beginnings. Now he is in charge of almost everything other than the painting itself - he designs and oversees the manufacture of the products and ensures quality throughout, as well as conducting the administrative operations of the business.
Our wedding stationery is featured in the November 2014 and the January 2015 editions of Vogue Magazine. Please contact us via the 'contact the seller' button.