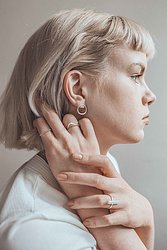 British designer Rebecca Gladstone creates a range of handmade jewellery with a strong emphasis on geometric forms, elemental lines and simplified shapes.
Using traditional silversmithing and lost wax casting techniques working from her studio by the sea in Margate Kent Rebecca founded her label just over 4 years ago.
Using a number of precious metals and polished silver for high impact. Rebecca says of her work ''I want the pieces to feature minimal forms, geometric shapes and focus on the spaces between things."
The collections are designed to be an extension of the wearer not an intrusion. My focus is on the linear and pared down creating a minimal, bold but classic style of jewellery.