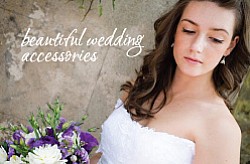 Radiance Boutique combines simple designs with quality materials to bring you the perfect finishing touches for your wedding day. Each handmade item is made to order with everything designed and created for you with the extra care and attention you'd expect. Each piece of jewellery is beautifully presented in a gift box or organza pouch.
Quality is key to every piece created. All jewellery is made with Sterling Silver findings. Silver plated wire is used to create the handmade hair accessories. I use only genuine Swarovski Crystals and Crystal Pearls in my designs to ensure that all jewellery is presented at it's best. Please note, the four new pieces in the Starlet hair accessories collection are not handmade and the crystals are not Swarovski brand, however, they are still great quality pieces which we want to bring you as we think the vintage style is something our customers are looking for.
Swarovski Crystals are renowned for their sparkle and Swarovski Crystal Pearls perfectly imitate natural pearls. They are resistant to UV light and will not fade.
The superior quality of the materials has inspired me to create a collection that allows the crystals and pearls to take centre stage. These designs serve to enhance your look beautifully on your special day. Pieces are very much designed with a mix and match approach to enable you to create your own wedding day style. Build different pieces together and get the exact look you want. Many items are also popular as gifts, please note that nothing on our packaging suggests 'wedding' so you can freely send our pieces outside of this context! Thank you for viewing the collection.
Please note that on occassion it may not be possible to use the exact findings shown in item photographs (such as clasps) in such an instance a suitable replacement of the same quality (eg Sterling Silver) will be used.