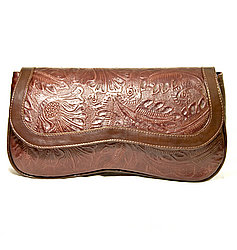 Based in London, Rachel Orme is a recently established company that fuses a contemporary design approach with traditional craft techniques. Rachel Orme bags and accessories are designed and handmade by Rachel Orme and a small team of highly skilled artisans from their studio in London.
Rachel Orme is a low profile but substantive company that values quality over quantity; everything is made by hand in London using the finest quality materials including luxurious Italian and Belgian leathers and Liberty cotton and silks.
We are passionate about producing the finest accessories, never lowering our standards. Rachel and her team are committed to building long-term relationships with our growing number of delighted clients. Rachel Orme also provides a bespoke service.
Whilst our bags are beautiful and special, it is fundamental to Rachel Orme's ethos that they are functional, can be used for everyday life and have a timeless quality. Currently a well-kept secret in her native London, Rachel Orme looks set to become a recognised brand as word spreads amongst people who care about design, excellence and fashion that lasts beyond a single season...