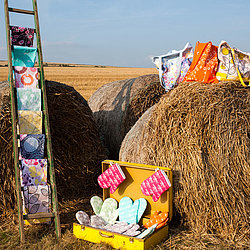 Rachael Taylor is a fun and energetic surface pattern designer and illustrator who creates 'patterns to make you happy'! Since graduating from university in 2005, Rachael has been lucky enough to work for a number of prestigious clients worldwide. Rachael also runs her own design label along with successfully licensing a number of global branded collections. Her designs feature on fashion, home decor, greetings, gadgets and ceramics.
In addition Rachael is the sole author and designer for '20 Ways to Draw a Doodle' with Quarry Books! It is the perfect creative book and resource for illustrators, cartoonists, doodlers and anyone who loves to sketch. Over fifty pieces of her work can also be found in a number of renowned design books from Print and Pattern (LKP Publishing) to A House Beautiful Home Business (Brightword publishing). The designer is also a hit with the press with her designs appearing in numerous leading publications and on the television.
She is also co-founder of the groundbreaking e-course called The Art and Business of Surface Pattern Design in which the esteemed designer teaches and shares her expertise and knowledge in surface pattern design. The success of the e-course lead the brand new ventures, Make it in Design and MOYO Magazine.
Rachael is also regularly hired to deliver seminars and lectures around the UK & more recently the USA.
"Internationally-acclaimed designer" Print and Pattern.
As seen in Company Magazine! Famous chef Gizzi Erskine gave Rachaels' products a lovely feature and write up in her monthly column for Company magazine "On the look out for cool kitchen textiles, I stumbled across Rachael Taylor and her beautiful prints. In retro colours and outlandish styles, they'll bring sparkle to your kitchen".
"Graduating in 2005... Rachael Taylor has become one of the most progressive pattern and textile artists" Concept for Living Magazine.
"If you're a fan of the bold designs of Orla Kiely or quirky patterns and illustrations from Donna Wilson, then you'll love Rachael Taylor. The surface pattern designer and textile artist is known for her colourful, mood enhancing prints, from paisley designs with a twist to wacky free-drawn florals. There are all manner of gorgeous products, from kitchen accessories to duvet covers to iPad cases, but we're huge fans of her wallpaper - unique, striking and the perfect paper for creating a gorgeous feature wall." Easy Living.
"Inject some sunshine into your home with a little help from Rachael Taylor If you're craving a touch of bright loveliness to counteract the grey shades of February, you'll love this range of fun textiles and home accessories.With a signature style of quirky hand drawn illustrations on a bold colour palette, Rachael has created a collection that is sure to add plenty of personality to your home - with everything from tea towels and oven mitts to cushions, lampshades and statement wallpapers. These happy patterns are not restricted purely to the home, there are also phone covers and kindle cases to brighten up your everyday gadgets too. Rachael's aim is 'to help fill your life with fabulous colour, patterns and products that will put a great big smile on your face!' I'd say mission accomplished!" Country Homes & Interiors.
"Beautiful Business". A House Beautiful Home Business.
"Have fun with surface designer Rachael Taylor's quirky and colourful pieces." House Beautiful Magazine.
"Leeds - based designer Rachael Taylor creates energising homewards from her bold, illustrated prints (...) If zingy florals or bold abstract shapes rock your style, she's your gal." "Rachael can design awesome prints with her eyes closed. Literally." Mollie Makes, Issue 25.
"All out MAJOR colour pop (...) Original and beautifully designed decor and stationery and that as well as exuding style, there is also an element of fun in every detail of the affair, from the menus to the chair backs to the "Hip Hip Hooray" signs. (...) AMAZE." Rock My Wedding.
"You can never have to much squiggly, hand-drawn style in your life, Rachael Taylor can vouch for that. Her glowing designs are addictive." Mollie Makes magazine.
"TOP READ. Doodles! Sometimes, nothing but a quick doodle will end your creative block. Now, thanks to Rachael Taylor's new book 20 Ways to Draw a Doodle, you'll be covering everything from books to napkins with all kinds of satisfying (and addictive) squiggles!" Mollie Makes magazine
"Rachael Taylor's fun, colourful designs are always inspiring for anyone who likes a spot of quirkiness." Pretty Patches magazine.
Our designs have also been featured in several renowned magazines such as; 'Cardmaking and Papercraft'; 'Real Life Kitchens & Baths'; 'Period Homes & Interiors' & 'Period Living'. Rachael has also had over fifty pieces of her work published in numerous design books including 'Print and Pattern', 'Print and Pattern 2' & 'Print & Pattern Geometric' by Bowie Style (LKP Publishing), 'Patterns' by Drusilla Cole, (LKP Publishing), 'The Exciting World of Pattern Design' by Zeixs Feierabend (Unique Books)', 'Patterns' by Maomao (booQs publishing), 'Best of Greeting Cards' by Zeixs Feierabend (Unique Books), 'Websites 3' by Zeixs Feierabend (Unique Books), 'Logo' by Zeixs Feierabend (Unique Books) & 'A House Beautiful Home Business' by Emma Jones (Brightword Publishing). Rachael is also the sole author of '20 Ways to Draw a Doodle' (by Quarry Books).
Thanks for stopping by!