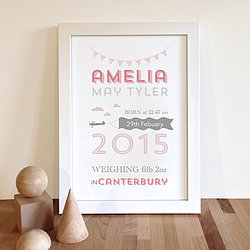 Welcome to my print shop where I design and produce typographic and illustrative prints, many of which can be personalised.
Rabbit & Gold was created by myself, Jo way back when my eldest child was still crawling around. I wanted to make beautiful things that would make him smile, now both the family and the business have expanded, much of my inspiration still comes from my children, and they're my best critics too!
I work from my little studio at home in London where I design all my prints hand and then digitally colour and finish them, each personalised print is made to order and professionally printed.
My background is in graphic design and fine art printmaking, my passion is for making beautiful things to enhance your home and make you smile! I want to design prints which are truly special and unique to you, from prints which mark the birth of your new baby, celebrate achievements and milestones in life, remembering a time and place where you met each other or simply celebrating your family, I want to create something special!
All designs are copyright of Rabbit & Gold 2016, designs may not be copied or used with out permission. All rights reserved.