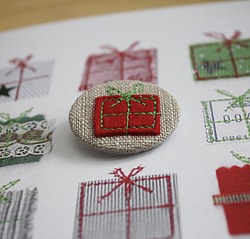 Here at Quirky Bee we don't just sell handmade products, we design, create and hand make each individual item ourselves. As dedicated designer makers, Emma and Megan (the 'Bee' ladies) produce individual and unique gifts you just can't get your mitts on in the shops.
Textile and fabric design is our passion and we work with an assortment of different materials to create each unique piece. From new and quirky to great vintage finds of dainty lace and beautiful buttons, we explore innovative ideas to create distinctive items. We hunt high and low for unique and quirky textiles from all over the globe, with our most recent finds coming from Japan, Korea, and the USA.
As well as looking for cute, striking and eye catching prints, we look for eco-friendly and ethically made fabrics, most of which, you can't get hold of here in the UK. Many items have been made from short runs of unique materials, making each of those products exclusive, so once they're gone, that's it.
All of our pieces are handmade here in the UK with a healthy dose of dedication and love! Time has been spent hand making that individual gift, which is worth so much more.
The 'Bee ladies' are passionate about providing a distinct haven for gift seekers searching out that quirky little something!