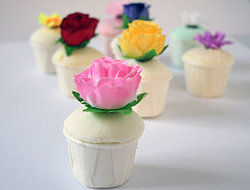 The moment you walk through the stable door of Jacqui Sheard's shop in the stunning north Wiltshire village of Lacock, the air is suffused with the aroma of beauty products: the floral aroma of geranium; the lingering perfume of cedarwood, sweet orange and jasmine.
Hand-cut blocks of soap, adorned with slices of dried orange and flowers, nestle in wicker baskets on the wooden cash desk. Shelves fashioned from vintage crates are stacked with handmade bath milks, flower-scented body scrubs and shower gels. And under a Victorian bell jar, in pride of place in the bay window, are clusters of bath melts topped off with sugar flowers and just the faintest sprinkling of glitter.
Jacqui, who trained as a graphic designer, stumbled into soap making after reading an article about traditional soapmaking in 1997 and places great emphasis on creating as pure a product as possible. All her shampoos and shower gels from the Goddess range, with its aroma of geranium and ylang-ylang, to the hypnotic Venus, scented with patchouli, lemon and oregano are free from artificial additives and preservatives. And when it comes to the packaging of her handmade soaps, each block is simply and lovingly wrapped in greaseproof paper before being tied with a length of twine.