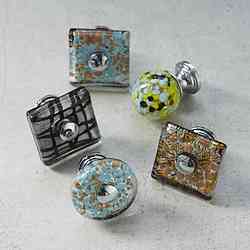 Pushka offers that little something extra for your home. We primarily sell unique design led home products, carefully researched, designed and sourced.
We source a variety of cupboard door knobs, mortice door knobs, light pulls, coat hooks and coasters to help add a unique feel to your furniture and interior decor.
We specialise in materials such as ceramic, glass, crystal, granite, walnut and oak and work with independent importers and in house designers to provide a variety of shapes, styles and colours to suit all homes
We offer personalised knobs, hooks and coasters for that extra special birthday, Christmas, anniversary or wedding present
Whether your chosen Pushka product is given as a gift, or a present to yourself we a sure it will become a unique addition to any home
Pushka Knobs is for customers seeking that something just a little bit different.
We hope you find something you love.
Lucy and Matt, Pushka Knobs