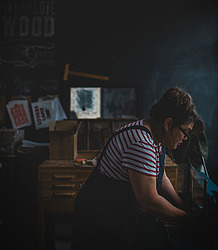 Design and letterpress studio in Lancashire dedicated to the love of wood type and tree hugging paper offering a wide range of prints, cards, stationery and gifts.
It is a labour of love by award winning graphic designer Jacqui Sharples a Lancashire lass inspired by a passion for print, the smell of ink, vintage typography and her collection of wood type. Jacqui prints in house on a range of vintage printing presses, using modern and traditional methods of hand setting type.
All the paper and card is either tree free or recycled stock and Ink is recycled from printers who have closed down due to the digital impact on traditional methods of print.
Jacqui also designs and prints a beautiful range of letterpress wedding invitations and save the dates for the big day. Lots more designs coming soon for 2016