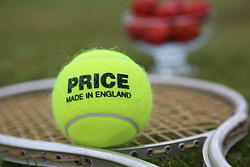 Our family business have been making tennis balls since 1936 in a small village just outside of Bath. We are the only surviving ball maker in Europe.
The company has got smaller and smaller over the last 20 years, battling to stay in business, but this year brings exciting times! Louise, daughter of Derek Price, joined her dad to be the third generation of the Price family to manufacture tennis balls in the UK, and we are making headway... tennis ball sales are back!
We now specialise in personalised tennis balls. A superb gift for the tennis lover or spoilt pet.