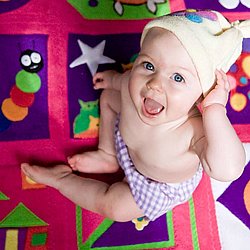 The creation of the travel playmat was inspired by the birth of my grandchild. I wanted to make something that was an original, personalised and practical for my daughter to use indoors and out and something that would provide stimulation for a newborn baby and would last the distance and be fun and interesting for a toddler.
The travel playmat is made for your special baby. A gift that is practical, easily washed, fun to look at, safe to play on, a bedspread for indoors, a blanket for travel, a mat for a picnic and when the day is done, folds up into a pillow for a place to rest.
Every mat is unique, totally different and just for you. In the colour of your choice and personalized with what you choose - your babies name, date of birth, taggie ribbons with soft satiny tactile edges for babies to play with, colours to stimulate the brain and aid development. A very special gift which enables you to be creative and give a one off, unique present to a very special baby that will last them for years to come.