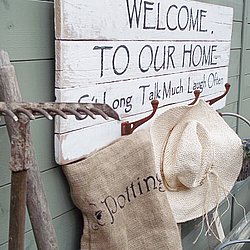 Potting Shed Designs was created by us,Carol & Lenny (husband and wife team),and we have grown it into a small family team of artisans who lovingly create original, quality wooden signs and unique home and garden items. We really do work from our potting shed based in a garden somewhere in the beautiful city of York.Our eldest daughter,Kelly,is the best office manager, son Jordan is amazingly brilliant with I.T., our other daughter, Kristan gets roped in to help at busy gifting periods along with John, son in law, who does critical post office runs when needed, Paul, son in law who's amazing at sourcing reclaimed timber along with Ebony & Evie, granddaughters who are brilliantly talented artists that can step in when we're run off our feet! We're waiting to see where Raffa, our 2 year old grandson's talents lie!
Our logo was designed around our first potting shed rescue rabbit named Bumble, who has sadly left us now but we always have a rescue bunny (or bunnies!) and we aim to rescue needy rabbits as we encounter them and give a safe haven in the potting shed :-)
The wood we use is a mixture of reclaimed and sustainably sourced wood such as old fencing, floorboards etc and we like to use characterful, textured pieces.
Thank you for taking the time to read about us ~we really hope you have enjoyed your visit here, the potting shed door is always open so do come in and make yourself at home!
Carol & Lenny & the Potting Shed family x