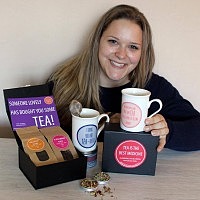 PostTEA specialises in luxurious tea gifts, perfect for any occasion. At our home in Surrey (affectionately known as the Tea Factory) we create unique gifts that put the celebration and ceremony back into Britain's best beverage. We embolden tea drinkers to explore tea, to try new blends and to get creative in the kitchen, and more importantly, we bring people together through the gift of tea.
With PostTEA you can share a cup of tea with a friend in need, in celebration, or just because they deserve a treat! We will send our tea gifts anywhere in the world, a simple gift from you, but a giant gesture between friends. PostTEA aims to supply gifts for any occasion or celebration and as such we have recently launched a range of occasion favours – we (and our happy customers!) think they're the perfect edible favours, but especially for weddings and bridal showers. We relish working on bespoke and custom orders, and delight in making gifts that are truly one of a kind!
PostTEA is run by tea lover and penguin enthusiast Kim, and spurred on by Laura, resident band and cake baker.
PostTea – whatever the occasion, say it with tea!