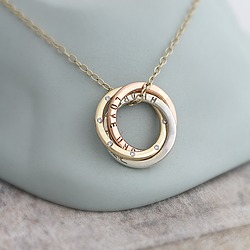 Beautiful, personalised gold and silver jewellery handmade by Alice Rivers-Cripps at Posh Totty Designs.
All pieces are handmade by Alice and her team in her workshop in Brighton, UK. All pieces can be made to size and customised with personalisations, making each piece unique and special. Each piece is handstamped, never engraved and completely UK made and designed. All pieces are unique and made to order.
Whether a visitor or a local to Brighton, pay Posh Totty Designs a visit in one of their boutiques. The original Bond St Cottages shop is situated in the heart of the fashionable North Laine area of Central Brighton. A new flagship store has recently opened up on bustling Sydney St, North Laine and during the summer months there is a seafront shop underneath the arches facing the sea.
Alice realised what she wanted to do after travelling across North and South America ending up in Mexico with only $60 in her pocket. She had no way of paying for her flight home so she worked for some local Mayan jewellers who taught her how to make traditional silver jewellery. Two years later when she had made and sold enough to pay for a flight home to England, Alice chose to continue to use the skills she was taught to develop her own personal style and Posh Totty Designs was born.
Alice decided early on that she wanted to make meaningful keepsakes/jewellery that the wearer will cherish and love rather than fashion jewellery that is 'in fashion' one moment and out the next. She was one of the first jewellers to realise there was a market for Personalised jewellery.
Alice says "People really wanted something unique and British and there were lots of shops on the High Street trying to copy the handmade look but they were mostly importing it from China, whereas we were making it all in our workshops. Due to the fact we were hand making each piece anyway, it wasn't much more work to then personalise to the individual. After having children myself I then realised how special it was, as I wanted to wear my children's names on my wrist or around my neck as I was so proud of them."
Celebrity clients include Davina McCall, Holly Willoughby, Miranda Hart, Vanessa Redgrave, Rachel Stevens, David Cameron, Dermot O'Leary, Emma Bunton, Amanda Holden, Sir Richard Curtis, Emma Freud, Zoe Ball, Collen Rooney, Dawn Porter, Fearne Cotton, Rachel McAdams and Cat Deeley.