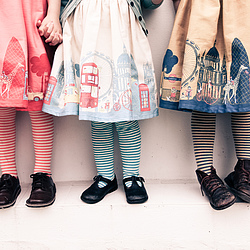 Recently, it has been brought to our attention that we're not alone in loving the name Poppy - there are other brands out there too! Because of this, and with the possibility of growing our ranges in the future, we've decided to rebrand under our new name - Bryony. As our designer, and the creator of Poppy and Fred, who better to share a name with?! We hope that with this name change, you'll be able to imagine Bryony in our studio bringing life to an ever-expanding family of characters that exist in our stories and on our dresses.
Bryony is our designer and the creator, each dress has to be hand illustrated and there is never a detail left out ! Growing up on a North Yorkshire farm, she is constantly inspired by the idyll of a countryside childhood, full of freedom to explore nearby woodlands, climb trees, talk to chickens and get up to general mischief when ever no adult was looking.
It's the desire for childhood nostalgia, which feeds Bryony's imagination as she illustrates each storybook and piece in our collection by hand from our studio in the heart of London.