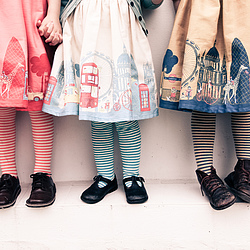 Palava is the new name for Bryony and Co (originally Poppy). We're a small family run business and after much trouble with having to re-brand the company...twice. We've finally settled on our new name - PALAVA.
The name represents what we have been through in the last year but also a sense of humour, fun and creativity, which is what our brand is all about. We love our new name and feel long term it gives us a stronger identity that is fun and will again, set us apart from others.
Each Palava dress has to be hand illustrated in our London studio and there is never a detail left out! The majority of our dresses are made from 100% organic cotton or 100% linen. We don't like fast fashion and we want our dresses to be passed down from generation. It doesn't matter what age you are, all our Palava folk receive a free storybook with their dress!
Please note: due to the trouble with our name change, you may still receive goods with a BRYONY label in the garment. Please bear with us whilst the old name filters out and is replaced with PALAVA. Don't worry, nothing else has changed just the name!