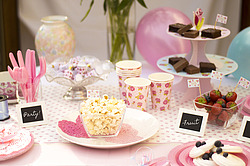 Hello Lovely!
PopBox Party was established with a view to bringing stylish, elegant and affordable party ideas and solutions to the UK.
Allowing every party host to truly be the hostess with the mostess without the blood, sweat and tears. The ideal solution for people who are looking for that special, stylish and classy party but haven't got the time, patience or stamina to do all the searching.
We provide those extra special little touches to make your occassion really special. Take a look at our range of personalised confetti and party finishing touches.
Whatever you choose from us, we hope to bring joy, style and happiness to your utterly fabulous occassion!
With love,
PopBox Party