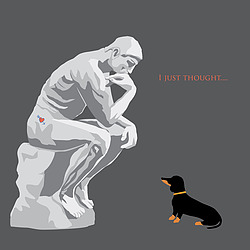 London Pooch was inspired by our two adorable black and tan dachshunds Archie and Doug - sadly now no longer with us. Dachshunds are classic shapes in every way.
London Pooch cards was formed in late 2005 after a career in publishing and design but always having had a love of cutting and sticking paper and card.The background illustrations feature drawn scenes of popular London sites or seasonal patterns drawn in Illustrator and lovingly printed in small print runs.
The cards are finished by hand with gold details or a small collaged dogs and packaged with a high quality white envelope and cello bag. All under the keen eye of production controllers Ned and his young nephew naughty black and tan Henry.