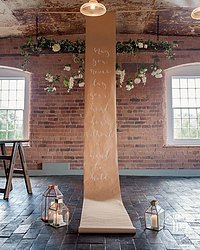 PollyAndMe was started in early 2013 by Alexandra, looking for a way to work from home after the birth of her first daughter, Pollyanna.
After years of making and selling for fun, doing craft stalls and gift parties, she decided to bring together all her skills to produce one-off special gifts for almost any occasion.
Aside to the gifts, the business has now grown into a wedding stationery business which specialises in Modern Calligrpahy, bespoke and off the shelf on the day stationery. Anything from place names, to table plans, welcome boards and signage to cake toppers and floavour labels.