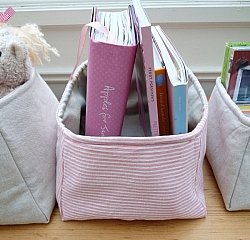 polkadots & blooms offers stylish, beautiful and practical treasures, handmade from genuine vintage linens and other vintage fabrics.
Designed by craftswoman Heidi Sternberg, the polkadots & blooms line is inspired by Heidi's childhood near the border of Germany and Denmark, and idyllic summer holidays in Sweden and Norway. Each product is eco-friendly and skillfully created by Heidi in her London studio.
The vintage fabrics, including the linens, are primarily sourced in France, Germany and Austria, as well as the UK. Fabrics are either unused or up-cycled (please see individual descriptions for further details). Heidi also uses locally sourced end-of-line fabrics, remnants and off-cuts that would otherwise go to waste.