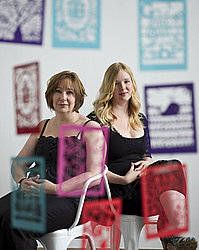 Pogofandango create quirky and colourful laser cut greetings cards, gifts and wedding stationery. Living in rainy but beautiful Cornwall, we cannot help but be inspired by our surroundings, and many of our designs reflect elements of the sea or nature.
Pogofandango began as a family run laser cutting company created by two graduates of Falmouth College of Arts, and is now a growing team of 8. Mother Gill graduated from Contemporary Crafts and has exhibited in Kent and Cornwall. She also has several years experience in display design and teaching. Daughter Emma graduated from Textile Design in 2006 and has exhibited her artwork across Kent, London and Cornwall. We were the very proud winners of the notonthehighstreet.com Make Awards Family Business of the Year award in 2011, and have continued to grow ever since.
The name 'Pogofandango' was originally our pub quiz team name. Needless to say, we never actually won a quiz, but had many laughs watching the landlady attempt to pronounce it! We were called "pongo", "dogofanpongo", "doogofoogo", and many more, we don't think she ever did get it right!