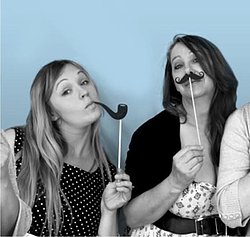 Hello! We are Pogofandango and we love to create fun, unique papercut cards of the highest quality so that they will be treasured forever. We adore colour, which is why all of our cards are available in so many combinations (plus we would struggle to narrow it down to our favourite few as we love so many of them) but if you would like to see a particular combination before you order, please contact us as we are always happy to help.
Pogofandango began as a family run business created by mother, Gill, and daughter, Emma, both graduates of Falmouth College of Arts, and is now a growing team of 8. The name 'Pogofandango' was originally our pub quiz team name. Needless to say, we never actually won a quiz, but had many laughs watching the landlady attempt to pronounce it!
We were the very proud winners of the notonthehighstreet.com Make Awards Family Business of the Year award in 2011, and have continued to grow ever since.
We are always happy to discuss any ideas or requests for particular designs (and believe us, there have been some strange and fantastic requests!) so get in touch if you have something in mind.