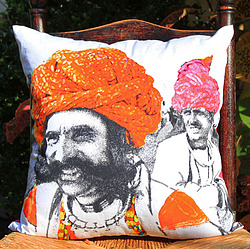 Plum Chutney is a design-led interiors boutique inspired by India.
We sell cushions, throws, lamps, trays, art prints and more.
Plum Chutney's collections explore multiple themes - Indian royalty, chaotic street life, stunning truck art, beautiful Indian people, traditional motifs, bright tropical flowers.
We have worked with up-and-coming designers who share our passion to bring alive the colour and charm of India through contemporary design.
Plum Chutney has had a fantastic journey since launch. We have had several successful exhibitions and pop-up shops in Bristol and London and Plum Chutney products have been featured in several national magazines such as Real Homes, Ideal Homes, KBB, Making, Sunday Times Style and more.
We thrive on the chaotic and captivating stories of India's people and places. Plum Chutney is our way of sharing some of those colourful stories with you.
Anita Mackenzie, Founder