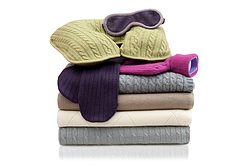 Whether it's for you or a loved one, Plum & Ivory has a wonderful range of luxury products that are all desirable to own and a pleasure to give.
We design almost everything inhouse these days with pure practical luxury in mind and work with master craftsmen and women here and abroad using the finest quality cashmere, leather, fabrics and yarns
Our products include cashmere beanies, hats, shawls and fingerless mittens/wrist warmers for the outdoor guy or girl; cashmere bed socks, travel neck cushions and eyemasks for the jet setter; pashminas in a variety of sizes that can be made bespoke for your Special occasion; cashmere baby blankets that make gorgeous new born gifts; cashmere hot water bottles and beautiful soft mohair and lambswool throws in gorgeous colours to keep you warm; bejewellewed velvet jewellery rolls; Italian leather purses and shoulder bags, cosmetic bags that can be personalised... and much more.
At certain times of the year we also work with a few local artisans to add some stocking filler personalised items too including Christmas badges and personalised golf markets and key rings for the hard to buy for men in your life.