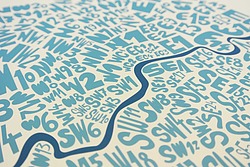 Place in Print is a London-based design studio and retailer, specialising in the creation and sale of locally-themed art and design.
We work hard to bring our customers affordable and appealing products that celebrate the places in which we live. We work with some of the best local design talent to create some of the finest place-related products for the home. Our products have been sent all over the world to customers that feel a particular connection with our products and the places they depict.
Place in Print was established by Ed in 2013 as a spin-off of South London Prints, a design studio specialising in the creation of limited edition artwork depicting landmarks and other features of South London. Through his work for SLP, Ed has had the pleasure of meeting a great number of talented individuals, also celebrating their localities although in different ways. At the end of 2013, we moved in to our new studio at the top of Havelock Walk in Forest Hill. We're generally around most days, working on new artwork or dispatching orders.