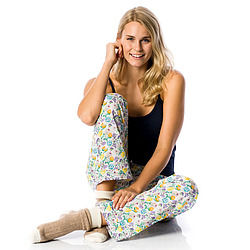 Launched in 2008, PJ Pan offers a stylish collection of UK made pyjamas, nightshirts, pyjama bottoms and pyjama shorts for women, men, teenagers and children. With over 20 stunning cottons to choose from, ranging from interesting stripes to pretty flowers there is hopefully something for everyone. Everything within the collection is made from the finest quality longstaple combed cotton, ranging from crisp Egyptian cotton to cosy brushed cotton.
The styles have been carefully designed to be as comfortable and as flattering as possible. Huge care is also taken in the manufacturing and it is detail such as beautiful piping and real shell buttons that make these pyjamas particularly special. Not forgetting that they are all proudly made in Britain.
Enjoy your breakfast in them...read the weekend papers in them...curl up on the sofa in them....or just stay in them all day - these are pyjamas for living.