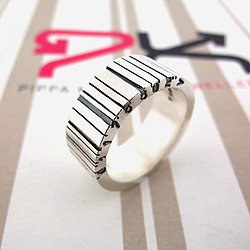 Pippa produces handmade silver jewellery for men and women from her workshop in everyone's favourite city by the sea, Brighton. Inspired by ordinary things found all around us, the barcode collection can be personalised with secret numbers or letters to mark that special occasion.
After studying 3D design at the University of Brighton Pippa went on to an apprenticeship at a local jewellers. In 2002 she launched her first fashion-led collection based on barcodes. Pippa's jewellery has been sold all over the U.K. and as far afield as the U.S. and Japan. She now works from her award-winning jewellery shop, Baroque Bespoke Jewellery, in Brighton's famous Lanes where she designs all of her collections, including stunning engagement rings and bespoke commissions.
Inspired by ordinary things all around us, other influences for her jewellery have come from street fashion as diverse as camouflage patterns, denim detailing and even Hot-rod styling.
The barcode collection is perfect for remembering a special day such as a wedding or a birthday especially if your loved one is not good at remembering dates! Each piece of jewellery is made from 925 sterling silver, carefully hand stamped and polished to a mid-finish.