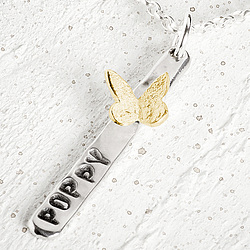 At Pink Butterfly we specialise in distinctive, handmade and feminine jewellery, with the occasional collection for the discerning gent!
I have been designing and making jewellery for about 15 years, since graduating with a first from Art College in Dundee. I started out supplying galleries and shops around the country with my silver design-led jewellery. I opened my jewellery boutique, Pink Butterfly in 2004 in the small Yorkshire village of Farsley. I also own and manage a jewellery school teaching adults to design and make their very own jewellery collections in silver.
Since having my son, Henry, I have gone back to working primarily at the bench and really enjoy making pieces that celebrate family and special relationships, whilst juggling being a new mum!
I am showcasing here a range of my very own latest collections, including the incredibly popular 'Tiny Text' collection and my signature butterflies. I am pleased to present to you my simple and stylish designs and proud of the quality of the work, the originality of the designs and the service I provide. I hope you like my designs and look forward to hearing from you soon.
Emma White