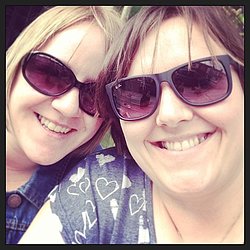 Brought to you from Hampshire, Pink and Turquoise offers a range of refreshingly unique, inspiring and creative handmade cards - all designed by Emma - and wedding accessories,
Emma married her partner Elise in June 2013, and having spent months planning their big day, they quickly became aware of the fact there was a distinct lack of products on the market that catered for same sex ceremonies from decorations to cards. Their findings were reinforced by the fact that their guests commented on the lack of choice in cards and also from receiving four of the same!
With this in mind, away Emma went one sunny friday afternoon in July and by sunday evening her first range of refreshing, modern and edgy cards was created.
Since then they have grown their business having had various requests for heterosexual cards for anniversaries, weddings, christmas and other special occasions throughout the year. Having also made their own confetti cones for their wedding, Elise launched her own range in early 2014, bringing handpunched and personalised cones ready to roll. Mid 2015 they increased their family of two with the addition of an excitable yet adorable cocker spaniel puppy named Eddie this inspired them to create a range of fun personalised animal cards perfect for any doting animal lover.
Emma & Elise are passionate about designing and bringing creative lead products to the market, and over the coming months will be building on what has already become a fantastic range. We hope you enjoy looking at our products and look forward to seeing you again soon.