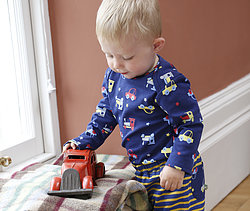 Welcome to Piccalilly, a world of beautifully designed and beautifully organic baby and children's clothing and gifts, designed in the UK and manufactured to the highest ethical standards using the finest organic cotton.
The world of Piccalilly is a very special place. It's all about great colour, timeless designs and easy to wear clothing to enable our little ones to wriggle, crawl, run and play. Our clothing is made from organic cotton sourced through Chetna Organic and grown without the use of nasty chemicals and pesticides. The result is a strong and durable fabric which is kind to wear on sensitive skin and softer than a baby's bum!
Piccalilly was founded in 2006 by Hannah Evans who previously worked as a buyer sourcing fairly traded products from primary producers throughout India and Indonesia. Ethical sourcing and fair trade is high on the agenda for our manufacturing. We've worked with the same manufacturing partner for 10 years and source our chemical and pesticide free organic cotton through Chetna Organic ensuring transparency from field to factory. Our factory is audited by Flo Cert, GOTS and is certified to SA8000 standards. The workers who create our ranges are paid a living wage, offered free meals daily, are part of a health and education programme and it's a strictly child labor free environment. How do we know? We visit the factory at least twice a year!